Serotta, serial #51001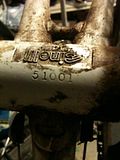 This is what I know 60cm Serotta with 58cm top tube.
Cinelli - Made in Italy, cast BB shell
Campagnolo dropouts, 126mm spacing
Columbus Tubing, which one? don't know 27.0 seatpost was in seat tube
Sloping crown fork, not sure if it is numbers matching yet
Cable routing is on top of the BB shell
Built with Shimano 600EX -6207 with 6208 shifters and RD, most of which are dated to March 1986 with KC production codes
Specialized Bar and Stem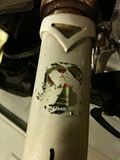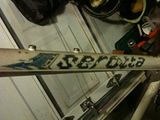 Since this bike is my size I decided to test ride it and if all goes well, replace my Fuji and do
another Retro-Mod
, ala
Renaissance Bicycles
, with possibly with a
7-11 theme
. This bike needs paint and decals bad but I saved it and that makes the rebuild even more fun. My inspiration is
a great story I found about another Serotta.
If you think you can help me ID this model, tubing and history that would be great. More pics to come once I have it cleaned up.